The Society of Voice Arts and Sciences Co-founders Joan Baker and Rudy Gaskins Use Their Experience and Achievements To Help Others Succeed in the Voiceover Industry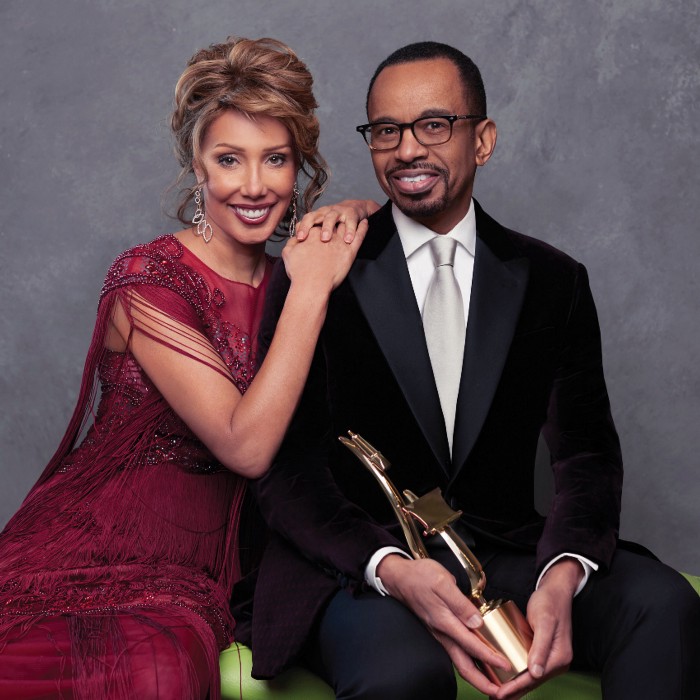 By Christy DeBoe Hicks, Global Communicator
February 25, 2021
---
Emmy Award-winning producer and director Rudy Gaskins, and voice actor, producer, and top-selling author Joan Baker have been partners in life and work for 26 years. They are cofounders of the Society of Voice Arts and Sciences (SOVAS), where Gaskins is president and CEO, and Baker is vice president. In this two-part story, Part I: How to Succeed in Business and Marriage by Really Trying reveals how Gaskins and Baker had a chance encounter that led to a life-long partnership. Part II explores the incredible work they are doing through SOVAS to uplift the voice arts community and to encourage and support more diversity and equity in the field.
Joan Baker wanted to be in show business for as long as she can remember. A biracial girl who grew up in Marin County, California, she came to New York City to pursue her dream. Baker never imagined that her hopeful, cross-country sojourn would lead her to the voiceover industry, where she is one of the top female voice artists in the country. She also could not have conceived that one of her voiceover assignments would lead her into the studio — and eventually into wedlock — with a savvy young, dreadlock-wearing producer and director in the promotions department at ABC News.
Rudy Gaskins had worked with some of the top film directors in the movie business before becoming a producer and director for television news. Since forming a unique partnership that intertwined their lives and their work, they have become a visionary team with ideas and plans that are likely to forever change the voiceover industry.
Creating SOVAS
Gaskins and Baker established the Society of Voice Arts and Sciences (SOVAS) in 2013 as a labor of love. The voiceover business had been, since its inception, the almost exclusive purview of white men. More country club than industry, voice work was dominated by producers and other moguls who tended to hunt in their own circles for the talent they needed. When it came to success in the voiceover business, one's connections could often mean more than one's talent. As Baker's extraordinary talent got her beyond many barriers and led her to become one of the most successful female voiceover artists in the country, she decided to help others succeed as voiceover artists. Baker and Gaskins also wanted to promote diversity within the industry and recognize the voice artists who work behind the scenes to tell stories, pitch ads, and bring cartoon and other characters to life.
Through SOVAS, they endeavor to achieve these goals primarily through two programs. The first is That's Voiceover! Career Expo, a popular two-day annual event that brings together key players in the worldwide voiceover industry, including working professionals and newcomers. The event offers networking, training, education, employment opportunities, and auditions for jobs with major companies and organizations. The Voice Arts Awards, the latest SOVAS program, recognizes excellence and innovation in various aspects of the voiceover industry and is comparable to the Emmy, Tony, and the Academy Awards in design and intention.
SOVAS can trace its roots to 2005, when Baker authored and published Secrets of Voice-Over Success. This book was the first to chronicle the career journeys of some of America's top voice actors, telling their stories and offering practical career advice and guidance. Baker says she was inspired to write this book by observing the plight of her father, James Palmer Baker, who battled Alzheimer's. Baker dedicated the book to him, sharing that she was gaining her voice through voiceover work while Alzheimer's was taking her father's voice away. The book featured twenty successful voice actors; two more voice actors were added for the book's second edition, published in 2011, bringing the total number of featured authors to twenty-two.
"The book signings attracted people who were interested in doing voice acting, and they had lots of questions," said Gaskins. "We would set up something for an hour and a half, and the question-and-answer sessions could go on all night. The lines of people wanting to get into these events were just extraordinary." Baker and Gaskins eventually started creating larger ticketed community events and workshops for the public.
For four years following the book's publishing, Baker and Gaskins did a Learning Annex workshop called Make Millions with Your Voice, which included the people featured in the book. "The Learning Annex administrators told us that it was the most popular workshop they had done in the history of Learning Annex," said Baker. "But at some point, Rudy and I felt like we could do it better and expand upon all the efforts over the years that we had put into these workshops for The Learning Annex and my book events. That's how the That's Voiceover! Career Expo evolved."
The couple established the That's Voiceover! Career Expo in 2010 and are now in their twelfth year. Baker notes that when creating That's Voiceover!, one critical part of their plan was to offer participants access to jobs. "We created a system where participants could not only find out about available jobs, but they could audition for paid employment at the job expo. The result is that many people have gotten discovered by huge industry pros who take them on. These are life-changing moments, and to this day, no one else has been able to do that."
According to Gaskins, a large part of their success with the Career Expo is that potential employers also benefit. "Our industry is all over the place, but we try to bring people together for this conference," he says. "It's not like the corporate world. You have to find people. That's Voiceover! became a place where everyone was together, and that created an environment that makes it easy for people to connect in professional ways." Over the years, participating companies and organizations have included NBC, CBS, Sennheiser, Neumann Microphone Company, SAG-AFTRA, Backstage magazine, Sennheiser Electronics, the Alzheimer's Association, and others. The program has been successfully implemented in New York and Los Angeles.
Baker enthuses, "We are creating these extraordinary opportunities that weren't around when we were coming up. But they are now. That's part of our reason for getting up in the morning."
Three years after launching That's Voiceover!, the visionary couple created the Voice Arts Awards. "As these conferences grew, we were bringing in so many extraordinary voice actors from around the world to talk about different aspects of the industry, and we were overwhelmed by how amazingly talented many of them were. We also were aware that none of them got any recognition for it, other than their paychecks," says Gaskins. "We decided to create an award show, and we were determined that we would do it right."
They wanted to create something on par with the Academy Awards and the Golden Globes — something meaningful that would "stand the test of time" in terms of credibility and in terms of honoring people. "We also wanted to provide a keepsake that winners could display and pass down through the generations of their families," says Gaskins. The award was designed in partnership with R.S. Owens Company, the same manufacturers of the Oscar, Emmy, and MTV Music Awards, among many others.
In 2014, CNN's Don Lemon presents James Earl Jones with the inaugural Voice Arts Icon Award at the Museum of the Moving Image in New York City. (Photo Courtesy of SOVAS)
Says Baker, "We go all out." She adds that the award venues have included the iconic Jazz at Lincoln Center in New York City and, more recently, Warner Bros. Studios in Los Angeles.
"It's as if you showed up at the Emmys or the Oscars: People order their gowns, get their makeup done in their hotel rooms, hire limousines to take them to the red carpet at Warner Bros.," she reports. "There's a pre-show, the red carpet, and then the live event, followed by the after-party. Voice actors have been so depleted in terms of morale that this has created a whole new world that Rudy and I didn't quite know that it would," she says.
At first, the award was met with skepticism from some people in the voiceover industry. "There was a lot of educating that had to be done — people didn't understand the process," says Gaskins. "One of the biggest complaints in the voice acting world is that they were not being acknowledged for their work. And because so many of them had never had the opportunity to win awards, they had no idea how award shows even worked. We had to show them that this is a transparent process and that we were not setting a new precedent with these awards. Our structures for our awards follow those of the Emmys, the Clios, Webbys, and the Golden Globes."
In 2016, Muhammad Ali's eldest daughter, Maryum Ali, attended the Voice Arts Awards, on behalf of Lonnie Ali, to accept a special award in her father's name. Michael "let's get ready to rumble" Buffer introduced Maryum Ali and announced that President Barack Obama as one of the inaugural recipients of the Muhammad Ali Voice of Humanity Award. That same year, Michael Buffer was the recipient of the Voice Arts Icon.
Like other major awards, the Voice Arts Awards are an open competition voted on by experts within the various fields that constitute each entry category. The award program has ninety categories that people and projects can be nominated for, including voiceover work in a variety of categories that range from cartoons to promos to audiobooks to sportscasting, as well as audio engineering and other production work. There are also categories for international and Spanish language work. Several special awards, such as Voice Arts Icons, the Muhammad Ali Voice of Humanity Award, and the Backstage Vanguard Award for Arts and Humanity, are also presented.
---
Christy DeBoe Hicks is a communications consultant, writer, and editor with more than 30 years of experience working with policy, nonprofit, education, and community organizations, as well as in the music, theater, and publishing fields. After a hiatus, she has returned as a regular contributor to Global Communicator.