Batman: Soul Of The Dragon: 10 Familiar Voices Behind The Diverse Cast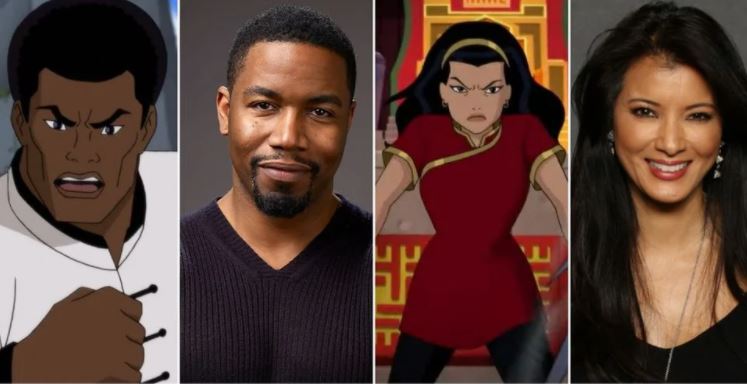 By Coby Grief, ScreenRant
February 17, 2021
---
Since 2007 DC has released a steady stream of direct-to-video animated movies featuring their iconic characters. These ambitious features have been praised for their aim at a more adult audience with many of the movies rated PG-13 and even R. While the plots often adapt classic comic book storylines, their most recent film, Batman: Soul of the Dragon is an original story from the minds of director Sam Liu, writer Jeremy Adams, and executive producer Bruce Timm.
Batman: Soul of the Dragon is DC's 40th direct-to-video animated film and over the 13+ years these fan-favorite films have starred a wide range of voice actors. Notable actors include Michael B. Jordan who voiced Cyborg in Justice League: The Flashpoint Paradox (2013), Neil Patrick Harris who voiced Barry Allen/The Flash in Justice League: The New Frontier (2008), and Rosario Dawson who voiced Wonder Woman in Wonder Woman: Bloodlines (2019). Batman: Soul of the Dragon is no exception with an awesome voice cast that includes some DC regulars as well as a fresh take on the Dark Knight himself. Here are 10 voices you may recognize in DC's latest animated adventure.
10.

David Giuntoli As Bruce Wayne/Batman
Actor David Giuntoli got his start on MTV's hit reality series Road Rules and throughout his career made guest appearances on several TV series including; Nip/Tuck, Veronica Mars, and Grey's Anatomy. Giuntoli's first attempt to star in a DC property was in Man of Steel (2013) where he was considered for the role of Superman but ultimately was beaten out by Henry Cavill. Instead, he scored the lead role of Detective Nick Burkhardt on NBC's Grimm and starred in 13 Hours (2016) alongside John Krasinski. While David didn't get to play the Man of Steel he was cast to voice the Dark Knight in this original story which is luckily set up for a potential sequel.
9.

Mark Dacascos As Richard Dragon
While in the comics Richard Dragon was depicted as a caucasian male, this film decided to not only have the hero be of Asian descent but modeled the character directly after actor/martial artist Bruce Lee in the film Enter the Dragon (1973). Mark Dacascos who voices Dragon is of mixed ancestry including Chinese, Filipino, and Spanish, and like Dragon is a martial artist himself having won numerous karate and kung fu championships throughout his adolescence. Dacascos is proficient in several styles of martial arts including Muay Thai, capoeira with Amen Santo, and Wushu, and has used his skills to bring several action-packed roles to life including Ling in Cradle 2 the Grave (2003) and Zero in John Wick: Chapter 3 – Parabellum (2019).
8.

Kelly Hu As Lady Shiva
Lady Shiva is known as one of the most skilled fighters in the DC Universe, often being cast as a villain for Batman. She has appeared in several DC content outside of comics including shows Beware the Batman and Young Justice as well as the Batman: Arkham video games. The latter in which she was voiced by actress Kelly Hu who reprises the role here in Batman: Soul of the Dragon. Hu won the title of Miss Hawaii Teen USA in 1985 becoming the first winner of Asian-American descent. Batman: Soul of the Dragon marks Hu's seventh role in a DC project.
7.

Michael Jai White As Ben Turner/Bronze Tiger
Ben Turner a.k.a. Bronze Tiger is an antihero who is often associated with both the Suicide Squad and the League of Assasins. He is a master martial artist and often fights with his tekko-kagi, which are brass knuckles with protruding claws. Michael Jai White is a legend as one of the first African American actors to play a comic book hero as the title character in Spawn (1997).
White has gone on to do several voices across DC entertainment including Doomsday in Justice League and Osebo in Static Shock. In 2013, he joined CW's Arrow as the Suicide Squad member Bronze Tiger, a role he reprises in Batman: Soul of the Dragon. Like Hu, this is Michael Jai White's seventh time working on a DC project.
6.

James Hong As O-Sensei
O-Sensei was a martial arts master in DC Comics training both Ben Turner (Bronze Tiger) and Richard Dragon as well as being the grandfather to Lady Shiva. While he hasn't been a main staple in comics his influence has been felt by several characters throughout the DC Universe. In Batman: Soul of the Dragon, O-Sensei is voiced by Hollywood legend James Hong who is known for his roles in Airplane! (1980) and Big Trouble in Little China (1986) and even voice work as Chi-Fu in Disney's Mulan (1998) and Daolon Wong in Jackie Chan Adventures. While Hong hasn't received nearly enough awards to honor his over 600 film and TV credits there is a movement that is working to get Hong a star on the Hollywood Walk of Fame.
---
Click image to learn more.
---
5.

Jamie Chung As Jade Nguyen
Alongside, Ben Turner, Richard Dragon, and Lady Shiva is another student of O-Sensei's Jade. Jade is more commonly known in the comics by her villain name Cheshire which she adopted from Alice in Wonderland's Cheshire Cat. In the movie, Jade is voiced by Jamie Chung, an actress who like David Giuntoli got her start on MTV's The Real World. She has gone onto have a successful career starring in films like Dragonball Evolution (2009), The Hangover Part II (2011), and III (2013) as well as voicing a fellow young female crime fighter, Go Go Tomago in Big Hero 6 (2014).
4.

Josh Keaton As Jeffrey Burr
Jeffrey Burr a.k.a. Kobra is the leader of the terrorist group, the Cult of the Kobra in the DC Universe. This sadistic leader is voiced by voice actor Josh Keaton who is the voice behind Peter Parker/Spider-Man in The Spectacular Spider-Man, Hal Jordan/Green Lantern in Green Lantern: The Animated Series, and Shiro in Voltron: Legendary Defender. In total, Keaton has over 230 acting credits.
3.

Chris Cox As Rip Jagger
Chris Cox has been doing voice work since 2000 where he voiced several characters on Family Guy including George W. Bush. Since then he has voiced dozens of characters across DC's animated shows and movies including Static Shock, Justice League Unlimited, Batman: Assault on Arkham (2014), and most recently Batman: Soul of the Dragon where he voiced fellow martial arts student, Rip Jagger.
In the comics, Rip Jagger is the superhero Judomaster, who was one of the characters DC acquired when they bought Charlton Comics in 1983 along with Blue Beetle and Captain Atom.
2.

Grey Griffin As Lady Eve
Lady Eve is a high ranking member of the Kobra Cult and the right-hand woman to Jeffrey Burr's Kobra. While Lady Eve isn't one of the most well-known villains in comics her appearance in Batman: Soul of the Dragon was exciting as she was voiced by the famous voice actress, Grey Griffin. Griffin is known for her roles as Vicky in The Fairly OddParents, Mandy from The Grim Adventures of Billy & Mandy, and Azula from Avatar: The Last Airbender. She got her start as a stand-up comic who was known for her incredible impressions. Griffin has over 600 voice acting credits which include 11 roles in DC animated original movies.
1.

Erica Luttrell As Silver St. Cloud
Silver St. Cloud is often portrayed as a love interest to Bruce Wayne in the comics as she does in this film. While Silver St. Cloud's role is small in the film, the actress behind the character is a mainstay in DC projects. Erica Luttrell voiced both Cheetah and Martha Kent in JLA Adventures: Trapped in Time (2014) as well as Mercy Graves in the recent The Death of Superman (2018) and Reign of the Supermen (2019) animated movies. With Batman: Soul of the Dragon setting up a possible sequel it's possible for Luttrell to return as Silver St. Cloud and get back together with Bruce Wayne if he's willing to share all of his secrets with her.
About The Author: