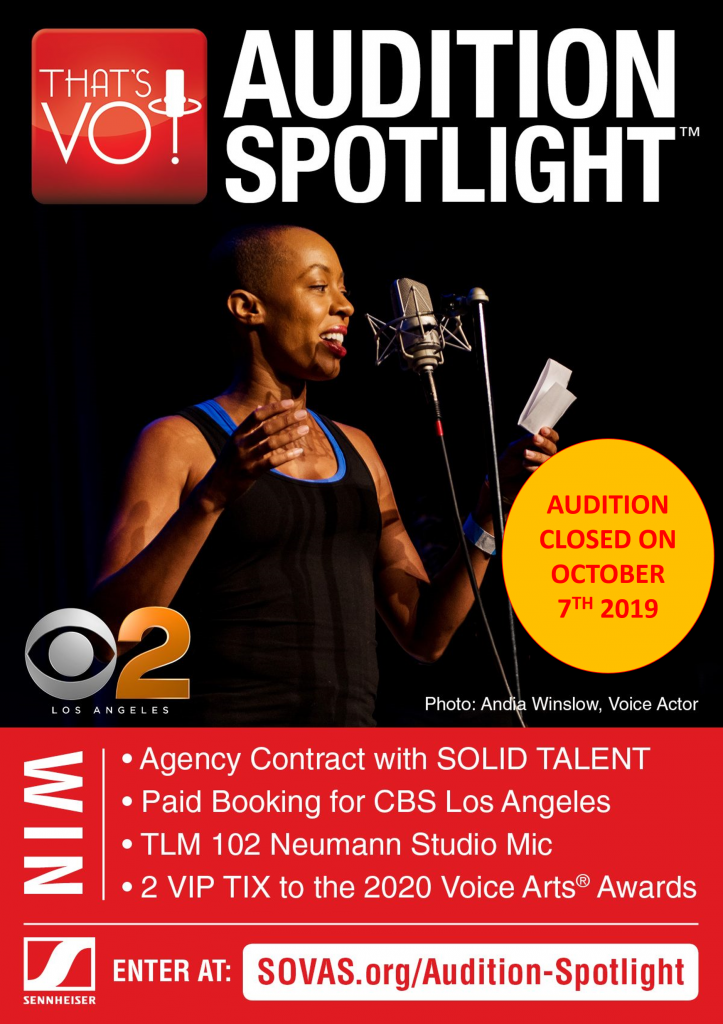 ***
All are invited to register and audition. Auditions must be recorded by your own means and submitted via MP3. Up to forty (40) people will be chosen and notified by October 20, 2020 to be confirmed for final audition rounds to take place at the Hilton Universal Hotel in Universal City, California on November 14, 2020, between 2pm ET – 9:30pm ET. Also, on November 14, 2020, six (6) finalists will be chosen to compete in a final live audition on the main stage during the finale of That's Voiceover!™ Career Expo. Audition Spotlight™ "finalists" do not have to be ticket-holders to take part in, or to complete the audition process. However, auditioning finalists without tickets,will  not be admitted into the general conference activities. If available, tickets for the general conference may be purchased on site.
One contestant will be selected the winner of a Paid Booking for CBS LA.  Talent Agency Representation with RSA Entertainment,  a Neumann TLM 102 Studio Microphone, a 6 Month Talent Agreement with ACM Talent, and two VIP tickets to the 2021 Voice Arts® Awards Gala.  And, of course, the white hot spotlight of success! *RSA Entertainment is the talent agency of record for this job. If the winning candidate is already represented by a talent agent, the job will still be booked through RSA Entertainment, unless other arrangements are agreed to, in writing, between the winning candidate and RSA Entertainment.
This audition is open to anyone ready to put themselves to the test. The first audition is online, right here! Just see the link for rules below. That's Voiceover!™ Career Expo is where final auditions will take place on November 14, 2020 at Hilton Universal Hotel in Universal City, California.  There is no fee to submit an audition nor to complete in the audition process. But the winner will reap the benefits of a PAID union gig with CBS LA. YOU DO NOT HAVE TO BE UNION TO PARTICIPATE IN THE AUDITION. Selected finalists must be present on site to complete the final phase of the audition process.
Entries must be received by October 7, 2020 at 12 AM PT to be eligible for the Contest. We look forward to your entry and hope to see you at That's Voiceover Career Expo. TICKETS HERE.
Click here for the full official rules.
Check out the previous winners!
Step 1
Download and record the script, making sure to say your full name and take number at the beginning of your audition. You may include two (2) takes only.
Click